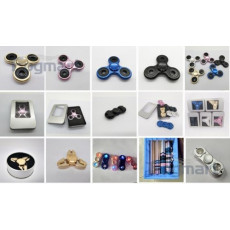 Hand Spinner is a very popular toy on the market now. It is not only a fidget toy for people with ADHD but also for many other people to play for fun for concentration.

The material of Hand Spinner boy is usually brass, plastic, Aluminum alloy, wood and stainless steel. Now the most popular material for it is brass and Aluminum. Because plastic material one looks cheap and not good hand feeling. And the ones made by wood is not for mass production on CNC machine yet.

Now, in the market there are mainly triple hands and dual hands spinner, multiple hands ones are also available now. Here below are some pictures of our products. More models / designs are available (not included in the picture).

The key part of Hand Spinner is miniature ball bearing. And the key specifications of the bearing is spinning speed, size and noise. The fast speed the better, the less noise the better. And the size cannot too big nor too small, after testing, we find that the 608 miniature ball bearing is the best one for using on the hand spinner.

The product should keep out of water to prevent the rusty of ball bearing which leads to slower speed or stuck. Our Hand Spinner is using stainless steel ball bearing and it will not be rusty.

We welcome the OEM of Hand Spinner, like logo engraving, colors customization or design customization.

Please contact us for details of products, like specifications, pricing and pictures, and so on.